2023 Ford
E-TRANSIT CONNECT
2023 Cargo Van
2023 Cutaway
2023 Chassis Cab
DESIGN
The 2023 E-Transit™ van is both functional and comfortable. The vehicle can be designed to suit your business.
REAL INFORMATION IN REAL TIME
A well-designed interior that can be customized for the nature of your job.
EXTERIOR
Turn your E-Transit™ into a rolling billboard. You can order decals, signs, whatever it takes to place on your vehicle to help advertise your business.
DYNAMIC GRILLE
The E-Transit™ van makes a stunning first impression with the Three-Bar Grille with Dynamic Blue Center Bars and Chrome Surround. The Ford badge sits proudly in the centre, the charge port located conveniently below.
Available colours









Book Your Test Drive Today!
See what it's like to get behind the wheel of a Ford electric vehicle with expert help from our dealership.
CAPABILITY THAT COUNTS
You need a vehicle that can handle the work. A van that is hardworking, efficient and electric. The 2023 E-Transit™ van fits the bill. It's also the only electric work van that has the backing of Ford Motor Company.
2023 Ford E-Transit™ Range
STANDARD RANGE BATTERY
68kWh High-Voltage Battery
Low roof cargo van models have an estimated range of 203 kilometers*
Ideal range for business needs that call for driving predictable routes in urban or suburban areas
*Based on full charge. 2023 E-Transit Cargo Van Low Roof model demonstrated range reflecting current capability based on testing consistent with US EPA MCT drive cycle methodology at ALVW (Adjusted Loaded Vehicle Weight). Medium Roof and High Roof models projected range reflecting capability based on CAE analytical adjustments from tested vehicle and adjusted for roof height. Actual range varies with conditions such as external environment, vehicle use, upfits and alterations, vehicle maintenance, lithium-ion battery age and state of health.
PRO POWER ONBOARD
Less downtime between jobs and on the job site can only help your bottom line. The 2023 E-Transit™ van offers you the ability to power tools while on the job site, so you'll be ready to go.
CHARGING
Charge when it's convenient for you. Whether at a charging station when travelling, on the job or even plugging in at the end of your day while you're tuning out. It's up to you.
DEPOT CHARGING
For on-site charging capability, ask the experts at Ford Pro how you can install hardware and software to make sure that when your fleet isn't on the road, it's getting ready for it.*
HOME CHARGING
Charge when its convenient. The E-Transit model can be charged at home with the Ford Mobile Power Cord. If you're looking to maximize your home charging speed, there's also the available Ford Connected Charge Station.
PUBLIC CHARGING
With over 75,000 charging stations, your fleet is plugged into the largest public charging system in North America * -the BlueOval Charge Network. So go ahead and take on those long-distance jobs.
VERSATILITY
The 2023 E-Transit van shares many of the same great attributes that the gas-powered Transit does. Minus the gas. It also offers a variety of available configurations and versatile upfits like shelving. The E-Transit can go where gas models cannot, including indoors in environments with limited ventilation.
RAISE THE ROOF
Available in three convenient roof heights: low, medium and high. The high-roof model can accommodate a person as tall as 6 feet 9 inches.
OPEN DOORS. OPEN SPACE.
The available power-sliding door* makes loading and unloading equipment, tools or cargo a simple part of your daily routine. Touch a button on your key fob, instrument panel or door handle, and the E-Transit™ van opens on your command.
CARGO VAN CONFIGURATIONS
Which one will help you be most productive? A work van that's agile in traffic manoeuvres? Or a model with more cargo space? The E-Transit™ van is available in:
Regular
Long
Extended Length
A van that'll fit so seamlessly into your work life, you'll wonder how you ever got along without it.
Ready to Schedule a 2023 E-TRANSIT Test Drive?
See what it's like to get behind the wheel of a Ford electric vehicle with expert help from our dealership.
TECHNOLOGY
The 2023 Ford E-Transit™ van has the technology you need to stay connected and plugged in.

SYNC 4 With 12" Display
Need directions to your job site? Or can't find a charging station? SYNC can help. Standard SYNC 4 with 12" screen features:
Voice-activated direction, music playlists and much more
Ford Power-Up software updates ensure your SYNC 4 receives the latest software and feature updates

ALEXA BUILT-IN
A good road trip companion. Available through Ford Streaming, Alexa keeps the music flowing, the directions moving and the tasks up to date on the to-do. Virtually anytime and anywhere.

FORDPASS CONNECT
This wireless router is embedded within your E-Transit. Combined with the FordPass App you can access numerous complimentary remote features and important vehicle information.
AVAILABLE ADAPTIVE CRUISE CONTROL
Traffic is a big part of your day today. Available Adaptive Cruise Control10 is great for this because:
• It lets you to set a cruising speed and distance from vehicle in front of you
• If traffic slows, you automatically do as well
• It accelerates back to the preset speed once traffic is moving again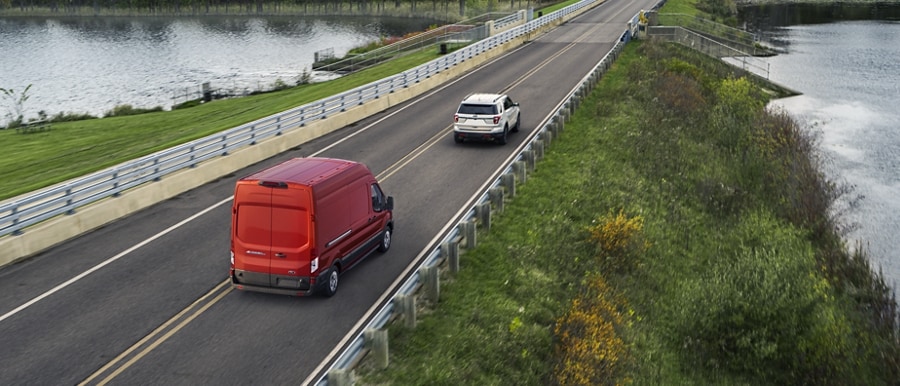 AUTO HIGH-BEAM HEADLAMPS
The High-Beam Headlamps come on automatically when needed. When the system senses an oncoming vehicle, it dims to low beam until it passes, then switch back to high.
ENHANCED ACTIVE PARK ASSIST
Park like a pro. Even in tight parallel or perpendicular spots.
• Press the Active Park Assist button
• Search for a parking spot
• When engaged, it can help locate a potential spot
• Brake to a complete stop and shift into Reverse
• Drive backward and your vehicle steers itself into the parking space
Ready for the Next Step? Call us at (905) 388-6396 or fill out the form below to book your test drive